Warren News Publisher
In addition to the publishing and security challenges you'd expect from a company that delivers time-sensitive content to its readers (both online and as a PDF), Warren News also has an extensive, searchable archive of over 250 thousand articles across four award-winning publications.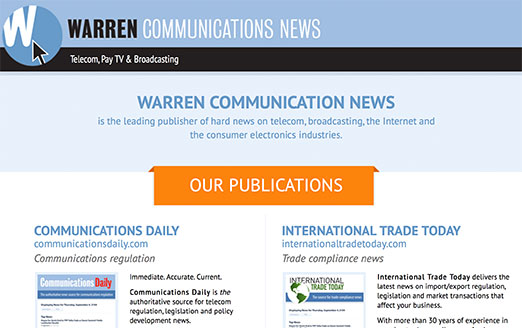 The publication workflow begins with authors crafting articles and reviewers ensuring that the content meets Warren News journalistic standards. Once written, compilers assemble the articles into issues that are exported as InDesigned XML for post-production work (which includes advanced layout and typography as well as advertisement placement).
For subscribers, the key feature is being able to browse or search issues stretching back to 2004. Under the hood, that means applying full text search techniques to provide lightning-fast (and relevant) results.
Behind the scenes, the Warren News team organizes and manages subscribers and subscriptions, and shapes the public-facing content of the site, which is served across multiple domains representing both the publications and the main Warren News site (not yet deployed).