Jewel Branding
Jewel Branding was looking for a way to help their clients find the designs they wanted and needed. And they needed to have an efficient way to organize and categorize tens of thousands of pieces of art before that could happen.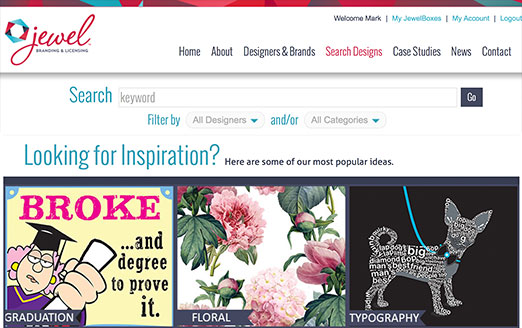 Jewel Branding connects designers and artists to licensing partners. The custom web application provides an elegant way for the team to efficiently load and tag artwork. That tagging system makes sophisticated search possible, enabling potential licensees to identify artwork and designs of interest, organizing them into "Jewel Boxes" that capture the essence of a particular theme or design concept. (And the just-released iOS app makes it even easier for licensees to explore what Jewel Branding has to offer.)
These "Jewel Boxes" form the basis for art communication: A licensee can print (or save) low resolution PDFs to prototype the designs for their intended use, and request high resolution PDFs from Jewel Branding to make informed decisions about which designs and artwork best meet their needs.